Protect Your Valuable Displays with an Elegant Solution
Offer your patrons an unrivaled viewing experience by forgoing the visual distraction of traditional crowd control barriers and opting for the clean-lined elegance of museum stanchions instead.
These special art display barriers are perfect for museums, art galleries, or anywhere else that requires a barrier that prevents patrons from getting too near an invaluable display without impeding the view.
With easily adjustable heights to match the needs of your facility, a thin elastic cord that creates a clear barrier, and quality construction from premium, durable materials like steel and cast iron, the museum stanchion is a premium crowd control option that will help set your museum apart.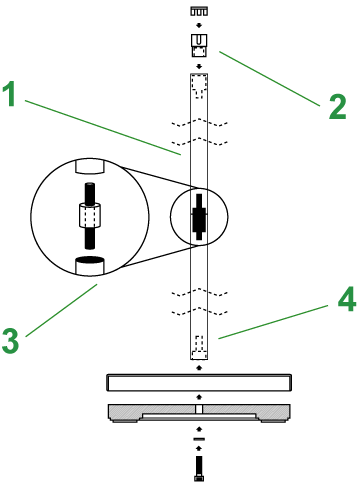 1) Steel Construction
Solid steel construction with an elegant black finish provides a subtle, non-intrusive look paired with the durability and stability you need to protect your artwork in high-traffic areas.
2) 3 Easy Adjustable Heights
Match your needs exactly with three easily adjustable heights (15 7/8", 30 1/8", 44 3/8") that offer versatile custom performance for displays of all sizes and dimensions.
3) Secure Locking Sections
Change heights with confidence knowing that a smooth, secure transition is ensured with easy-to-engage locking sections. No matter what height you choose, you'll have a stable stanchion you can count on.
4) Cast Iron Base
A heavy-duty cast iron base comes standard, providing unmatched durability that can with–stand the eroding power of moisture and the inevitable wear and tear associated with use around popular exhibits.
See the Art, Not the Stanchion
Patrons visit a museum or art gallery to admire world-class paintings, sculptures, and other exhibits. A traditional stanchion or post and rope system is a visible distraction that detracts from the aesthetic experience. Our special museum stanchion is an elegant, sophisticated solution that protects your invaluable installations without negatively impacting the viewing experience.
It's important that museums be compliant with provisions set forth by the Americans With Disabilities Act of 1990. This legislation provides regulations meant to ensure that all people are afforded equal access to and enjoyment of businesses. Luckily, because of their cane-detectable low cord, museum stanchions are a perfectly ADA compliant choice for your space.
Museum stanchions are obviously a great option for art museums and galleries, but they can be utilized in any situation or space that requires a physical barrier that doesn't intrude on sight lines. Car shows, cooking demonstrations, manuscript libraries…if you need to efficiently form a clear delineation between something on exhibit and the crowd admiring it, museum stanchions will help you get the job done.